Lécaude Stud : Barn lighting by PROXIMAL
In the heart of the "Pays d'Auge" in Normandy, Lécaude Stud provides a quality training site for sport horses with new high-end infrastructure that meets the needs of professionals.
Mme Delphine Giraud, Manager of the Stud, has chosen PROXIMAL for the lighting of the barn of 12 stall boxes dedicated to horses worked and valued by Flore Giraud, young International Rider. This installation is part of the « Well-being & Performance » program of PROXIMAL.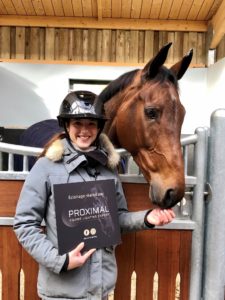 Since June 2019, our new facilities, allow us to offer a quality training site for sport horses with high-end infrastructures meeting the needs of professionals.

Promoting the well-being of horses and contributing to the development of innovative solutions for the equine industry, such as PROXI-BOX luminaires, are at the heart of our initiatives.

Delphine Giraud (Manager) – Lécaude Stud (Normandy – France)